Your printed paper cups are as useful as their potential in generating leads. Sure, they could be the most beautiful coffee cups. But if they do not please your customers, you need to rethink your approach to using them.
Your printed paper cups need to serve as an inexpensive but effective marketing tool. Printed paper cups have tremendous visibility that can take your brand places. They're cost-effective and also serve beverages to a massive and active audience.
In other words, that means printed paper cups should be at the top of your favourite marketing tools. Having your logo and brand names on your coffee cups builds brand recall and awareness.
But, the stumbling block to success is turning coffee cups into a successful promotional tool. Would you like to reinforce your brand and boost your sales using an affordable platform? Here are the tips to help you maximize on your custom printed paper cups.
Think about What Your Customer Love
Coffee, tea, or ice cream could be famous, but you serve a unique group of people. Who is your customer or buyer persona? They may have particular beliefs, values and tastes that you must consider. For instance, if you serve more ladies in your business, you may have to opt for the sweet and romantic colours.
Your buyer persona is the representative customer whose traits reflect your audiences'. Your brand values revolve around the interests of your target customer. Consider your customers' age, gender, incomes, preferences, and any other quality that seems relevant.
Most brands would have their buyer personas figured out before launching marketing plans. This helps create effective marketing plans that focus on the target customer. With printed paper cups, pre-identifying the buyer personas can strengthen your results.
Let Your Printed Paper Cups Represent Your Brand
Allowing your printed paper cups to represent your brand is the key to brand consistency. This means making sure that your design is a reflection of your brand image, values and values.
Customers love it when a brand is easy to recognize in a dense market. One survey shows that embracing consistency during branding can boost revenues by 33%. Custom printed paper cups allow your fans to know and remember your business.
If your colours, font, and message reflect your brand, customers can connect in a breeze. Your brand can also enjoy heightened awareness from the unique identity developed. Your logo enables people to register the experience emanating from your brand.
Make Your Brand Elements Visible
Printed paper cups can reach more people, but they can as well be ineffective if your message isn't legible. People don't want to struggle to comprehend your brand message. So, your design must be bold and easy to understand for your coffee cups to meet your goals.
Think about the people who may see your printed paper cups. To begin with, the design has to be attractive for the customer to pay attention to it. Then, only a bold and legible design can effectively convey your message to passers-by.
Above that, it would help to use quality graphics or images. In short, make your printed paper cups photogenic. Why? With the rise of social media, most people love sharing their experiences with their fans.
Again, HD visuals are more effective in grabbing people attention. 85% of customers prefer reading from visuals than texts during shopping.
Simplicity is the Key to Successful Printed Paper Cups
It can be tempting to go overboard or unleash tons of creative ideas on your brand. But you should watch out or else you'll end up confusing your customers. As much as people will appreciate the beauty in your coffee cups, excess artwork can be a put-off.
Today, simplicity still remains to be the most effective tactic in design or branding. A poster or a custom printed coffee cup that is simple and easy to understand always does the trick.
A printed paper cup is a platform to communicate your brand name, product and location. That's it. You can't showcase your entire designing prowess here. Or you won't include your company history.
A good branded coffee cup brings out your message in the shortest way possible. It may include your logo and a catchy message to entice your prospects. Your colours, materials or finishing may also help communicate about your values.
Avoid Run of the Mill Concepts
Printed paper cups can boost your marketing results if they're unique. This is because these coffee cups are prevalent. And so many brands could be using similar concepts. Still, with digitization, chances of replicating competitors are super high. Only a unique look can set your brand apart and give you a competitive advantage.
Avoid generic designs and research your competition to know what they're up to. Also, consider what your customer wants by digging deep into your buyer persona. Most often, all it takes to transform a standard design into distinctive is a small element. It could be fonts or a slight tweak of your colour scheme.
Developing unique printed paper cups may sound tedious. But it's worth your time and resources. Marketing tools that highlight your values can turn your business into customers' choice.
Don't Forget to Brand Coffee Sleeves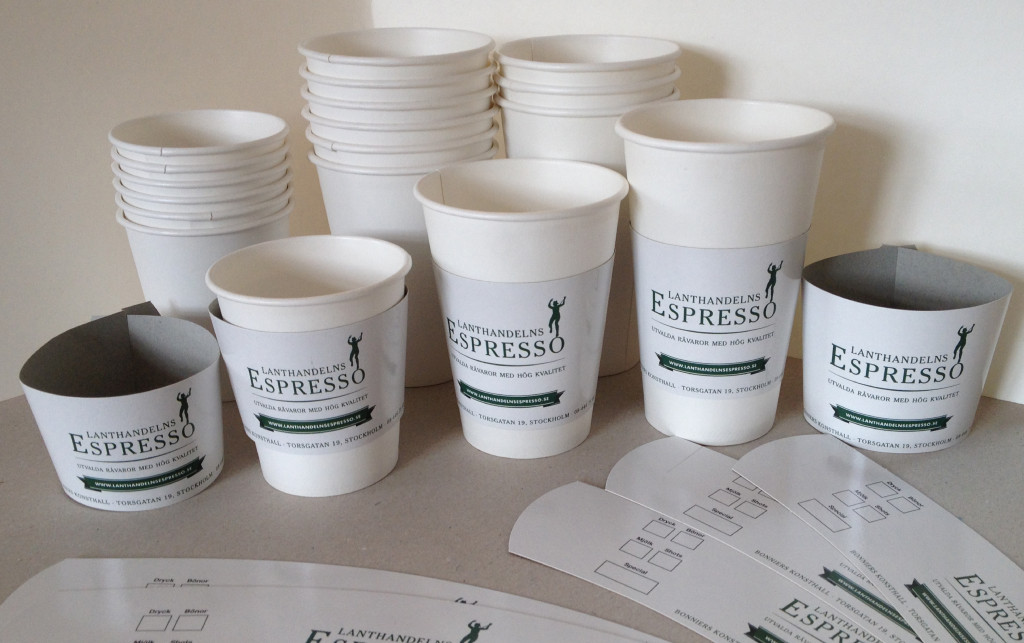 Sometimes customers can ask for a sleeve to hold their coffee. Or you could be using single-walled paper cups which may not provide enough insulation. In these cases, your sleeves will wrap around the coffee cup and hide your cute branding.
What to do in such situations is to brand your coffee sleeves. The sleeves will provide an extra layer of insulation while also helping in branding. This enables you to maximize every moment your customers spend taking your beverages.
Brand the sleeves like the coffee cups to make them represent your business. Make sure they contain all the relevant info that may boost brand recognition.
What it takes to Create Custom Printed Paper Cups
You would want to put your brand elements on something that customers would love to use. High quality printed paper cups are sturdy, gripable and comfortable to use. It will also boost your brand if you're using compostable or recyclable coffee cups. Beyond that, work with a designer who knows what building a successful brand entails.